Engraving Guidelines for Medical ID Jewellery
Important Information - Please Read Carefully
All of our jewellery can have different sized medical tags and engraving character limits. You MUST read these details to ensure that you buy the correct bracelet for you.
Please read the information below to give you an idea about what to engrave on your medical ID bracelet. If you are still not sure then no problem - place your order and instead of filling out the engraving fields, email us or give us a call and we will be more than happy to assist you.
Our engraving process
We use a state of the art laser engraving machine to burn your engraving directly on to the medical jewellery. Not only is it a permanent marking which will not rub off but it is very clear and easy to read. After all, Lifesaving Engraving medical jewellery could save your life so you want the information to be as clear as possible.
Important
We engrave exactly what you type and how you type it. If you make a spelling mistake we cannot rectify it. Please check and double check your spelling. We also do not change capitalisation so please make sure that if you want it in capitals you type in capitals and vice versa.
Your questions
How many words can I have engraved on my Medical ID Jewellery?
This entirely depends on the individual products, so please read the description for each product to find out the specific sizes and word limits.
For a rough guide, many of our bracelet tags can accommodate UP TO 5 lines of text with a maximum of 25 characters per line (including spaces). Please remember this can vary depending on the piece you would like to buy, so please read the product descriptions.
Are there characters that I cannot use?
Yes, please do not use "quotation marks" (" ")
What should I have engraved on my Medical ID Jewellery?
Your ID tag should explain brief and relevant information about your medical status. It should be useful for medical services treating you in an emergency situation.
• Illnesses
• Medical conditions
• Allergies
• Medicine requirements
• Medical implants (pacemakers, cochlear etc)
• Plus at least one ICE (In Case of Emergency) contact number
The information must be brief and relevant. We recommend the following format:
• Your name and date of birth
• Your medical conditions or allergies
• Any important medication that you are taking
• Any other relevant information
• An ICE (in case of emergency) contact name and phone number
For example:
JANET DOE 08/09/57
TYPE II DIABETIC
INSULIN DEPENDENT
ALLERGIC TO PENICILLIN
ICE: JOHN 079441231234
I want more engraving than you allow - is this possible?
We optimise every single engraved tag to make sure that not only do we get as much engraving on as we can, but that the text is large enough and clear enough to be read, first time, every time.
Generally most of our medical tags are an inch and a half wide. If we are to add either extra characters per line or extra lines, in our experience the engraving becomes too small to read.
We want you to be 100% happy with your engraving and we don't impose limits to be greedy, we do it so that your vital information is easily read.
My Star of Life symbol

isn't

the same shade as shown!
The photographs shown on our website are for guidance only. Some shades of colours of the Star of Life symbol may vary from those shown in the photographs.
I have too many medical conditions or allergies to fit onto my tag!
No problem! Simply engrave your NHS number which will tell emergency services about your situation.
Need some help?
We're always available to help you with wording for your medical ID jewellery. If you have any questions, just call us on 07434 540 046 between 9.30am and 4.30pm (GMT).
Here are some real-life examples of how our Medical ID Jewellery is used:
5 Lines Maximum (25 characters per line including spaces)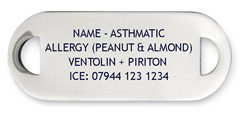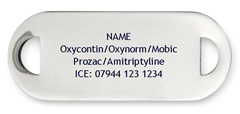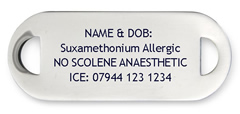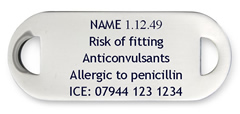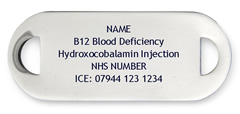 Blue Medical Symbol Tag
3 Lines Maximum (25 charters per line including spaces)



Some wording examples
NAME
EPILEPTIC & ASTHMATIC
ICE: 07944 123 1234
NAME & DOB:
Suxamethonium Allergic
NO SCOLENE ANAESTHETIC
ICE: 07944 123 1234
NAME
Hypermobility Syndrome
Osteoporosis
Addisons Disease
ICE: 07944 123 1234
NAME
Type 1 diabetes
ICE: 07944 123 1234
NAME
Peanut Allergy
Use Epipen & Call 999
ICE: 07944 123 1234
NAME
Sleeping Disorder
NHS NUMBER
ICE: 07944 123 1234
NAME
Autistic, epileptic & has
speech/language disorder
ICE: 07944 123 1234
ICE: 07944 123 1234
NAME
Allergic to penicillin
NHS NUMBER
ICE: 07944 123 1234
NAME & DOB
Heart Patient
Atenolol Aspirin Hyzaar
ICE: 07944 123 1234
NAME
Clavulanic Acid
Augmentin, Co-Amoxyclav
ICE: 07944 123 1234
NAME
allergic to nuts
carries adrenaline
Asthmatic
ICE: 07944 123 1234
NAME & DOB
Hydrocephalus
Codman Prog Valve
ICE: 07944 123 1234
Allergic to penicillin,
dairy products & nuts
ICE: 07944 123 1234
NAME
Risk of fitting
Anticonvulsants
ICE: 07944 123 1234
NAME
Allergy to Latex
Asthmatic - uses inhaler
ICE: 07944 123 1234
NAME - ASTHMATIC
ALLERGY (PEANUT & ALMOND)
VENTOLIN + PIRITON
ICE: 07944 123 1234
NAME
ALLERGIC-CLARITHROMYCIN
OR SISTER DRUGS TO ABOVE
ICE: 07944 123 1234
NAME
Fractured Neck C6: O Rh-ve
Meds. ACE Inhibitors
ICE: 07944 123 1234
NAME
Allergic to Aspirin
Allergic to Penicillin
ICE: 07944 123 1234
NAME
epilepsy
ICE: 07944 123 1234
ICE: 07944 123 1234
NAME
Oxycontin/Oxynorm/Mobic
Prozac/Amitriptyline
ICE: 07944 123 1234
NAME
Cortisol Deficient
Hydrocortisone Dependant
ICE: 07944 123 1234
Carries an EPIPEN
Jab firmly into thigh
Hold in place for 10 secs
massage area call 999
NAME
On anticoagulants
INR: 2.5
ICE: 07944 123 1234
NAME
I.T.P Low Platlet Count
No aspirin/anti-inflammatory
ICE: 07944 123 1234
NAME
angina
NHS 123 123 1234
allergic aspirin/paracetamol
NAME
B12 Blood Deficiency
Hydroxocobalamin Injection
ICE: 07944 123 1234
NAME & DOB
Addison's Disease
Deep Vein Thrombosis
Ileostomy
ICE: 07944 123 1234
NAME
Pulmonary Valve Stenosis
A Rhesus Negative
ICE: 07944 123 1234
NAME & DOB
Epileptic
Carbamazepine
Lamotrigine
NAME
REFLEX ANOXIC SEIZURES
Recovery position - 999
ICE: 07944 123 1234
HEMIPLEGIC MIGRAINE
Allergy – Benzodiazepines
Paracetamol + Triptans
ICE: 07944 123 1234
Insulin dependant diabetic
bi-polar, Dr Spok at
Mcr medic.centre 08451231234
ICE: 07944 123 1234
NAME
DIMENSIA
BLOGS CARE HOME
BL1 1GG
ICE: 07944 123 1234
NAME
Type II Diabetic
Metformin 500mg
ICE: 07944 123 1234
NAME
ALLERGY EGG & EGG PRODUCTS
ICE: 07944 123 1234/07944 123 1234
NAME
Epilepsy
No medication
ICE: 07944 123 1234
NAME
Allergy to all nuts
Allergy to Penicillin
Prescribed EpiPen
NAME
Non verbal. Epileptic
ICE: 07944 123 1234
ICE: 07944 123 1234
methotrexate 27mg wkly
warfarin 12mg daily
prednisolne 7mg daily
azathioprine 200mg daily
NAME
Prinzmetal Angina
Adizem-SR 90mg
ICE: 07944 123 1234
NAME
(ITP) Idiopathic
Thrombocytopenic Purpura
ICE: 07944 123 1234
NAME
I have epilepsy
Tegretol 200mg 2x daily
ICE: 07944 123 1234
NAME
Multiple Sclerosis
Warfarin Ketamine B Neg
ICE: 07944 123 1234
Common conditions and allergies
Common Conditions
Adrenal Insufficiency
Alzheimer's
Angina
Asthma
Atrial Fibrillation
Cataracts
Congestive Heart Failure
Contact Lenses
COPD
Deep Vein Thrombosis
Dementia
Diabetes
Emphysema
Epilepsy
Fibromyalgia
Gastric Bypass
Glaucoma
Heart Patient
Haemophilia
Hypoglycaemia
Hypertension
Lupus
Lymphedema
Mitral Valve Prolapse
Multiple Sclerosis
Pacemaker
Parkinson's
Renal Failure
Seizure Disorder
Stent Implant
Vision Impaired
von Willebrand's
Common Allergies
Aspirin
Adhesive Tape
Bee Stings
Cephalexin
Cephalosporin
Clindamycin
Codeine
Contrast Dye
Doxycycline
Erythromycinv
Fentanyl
Iodine
Latex
Lidocaine
Morphine
Morphine Sulfate
Nitrous Oxide
Novocaine
Peanut/Tree Nut
Penicillin
Phenergan
Prinzide
Robinul
Shellfish
Stadol
Succinylcholine
Sulfur
Sulfa
Tetracycline
Versed
Wasp Stings